La Liga Team of the Season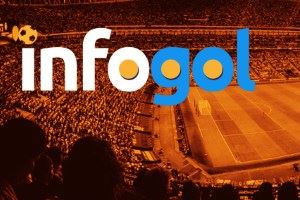 With the final kick of European football in the 2016/17 season taking place this week on the international stage, Infogol's Analyst takes a look back at the La Liga season – selecting the best XI according to underlying player stats.
Infogol Team of the Season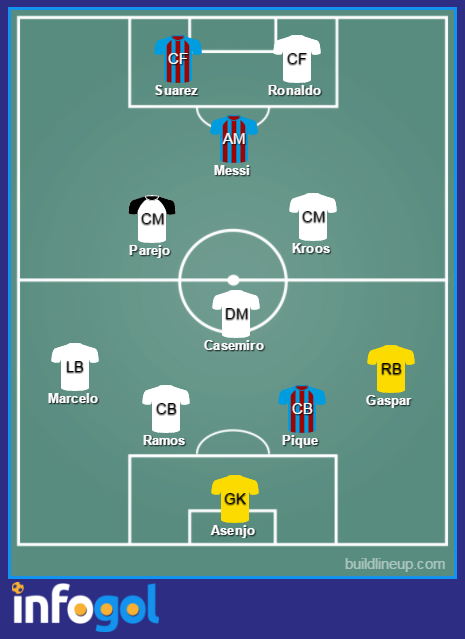 (When selecting players, Infogol looked at defensive (tackles, interceptions, clearances etc.) and attacking (attempts, shooting positions, xG etc.) involvement. Players had to have played more than 1500 minutes over the season).
Between the sticks in the team of the season is Villarreal stopper Sergio Asenjo. Asenjo has been expectionally unlucky throughout his career with injuries, rupturing his cruciate ligament three times before this season, so it was really good to see him make a comeback and play so well for the yellow Submarine. He played until February, when he ruptured his cruciate ligament once again, an injury that ended his season. In his 24 La Liga starts, he conceded only 15 goals, which was an over performance, as Infogol calculates that from the chances he faced, he should have conceded eight more. For this reason, he makes the team.
Mario Gaspar, also of Villarreal, and Marcelo (Real Madrid) are the two full-backs, with both showing great contributions both in defence and attack. Mario Gaspar helped Villarreal gain a Europa League place with his performances, contributing 5.1 expected goals (xG), but more impressively, was involved in 13% of his team's defensive actions, the highest of any Villarreal player. Marcelo was an easy choice for this team, as he has been an integral part of Real Madrid completing the La Liga and Champions League double. Marcelo was in Madrid's top five players when it came to defensive actions, but more impressively he contributed 10.4 xG to Los Blancos' tally – popping up in big games when his team needed him the most.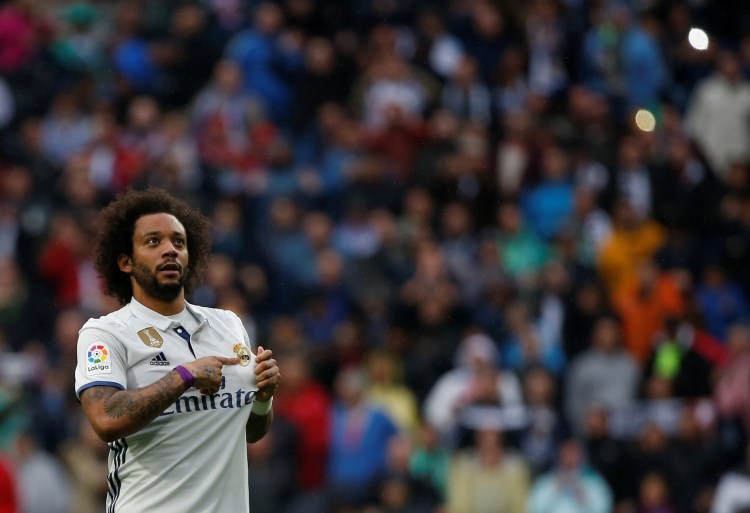 Star Performer: Marcelo has been key to Madrid's success
A centre-back pairing of Sergio Ramos (Real Madrid) and Gerard Pique (Barcelona) should get on well, and even with their issues off the pitch, they come together to form a fine rear-guard for the Spanish national team. Once again both players were integral to their teams, with Ramos leading by example in scoring seven goals for the champions. He was Real Madrid's most effective defensive player also, and capped off a fine season by lifting the Champions League trophy. Pique contributed over 5 xG to his team, but it was in defence where his team needed him badly, and he was by far and away Barcelona's most effective and important players in that sense. Contributing to over 12% of their defensive actions, it was clear to see how much they missed him when he wasn't playing.
Casemiro (Real Madrid) was selected as the defensive midfield player, after another successful season. Throughout the campaign it was clear that he was as important to Madrid as any attacking player, as his main job was to provide protection for his counterparts. Casemiro was Madrid's second best defensive player when it came to defensive actions, and he added to that with a few important goals throughout the season.
In front of Casemiro is Toni Kroos (Real Madrid) and Dani Parejo (Valencia). Toni Kroos' selection isn't much of a surprise, as he has been a standout for Real Madrid this season, but why has Parejo been selected ahead of the likes of Modric, Iniesta, Koke etc.? From an attacking point of view, he contributed to 20% of Valencia's xG total and averaged a non-penalty expected goal involvement per 90 minutes of 0.31 (xGI/90) – comfortably more than any of the players mentioned above. Parejo has also stood out defensively, being Valencia's fifth most involved when it comes to defensive actions – he is one to keep an eye on next season. Toni Kroos has contributed three goals and 12 assists to his team this season, with an xGI/90 of 0.43 being one of the highest among world football for a central midfielder.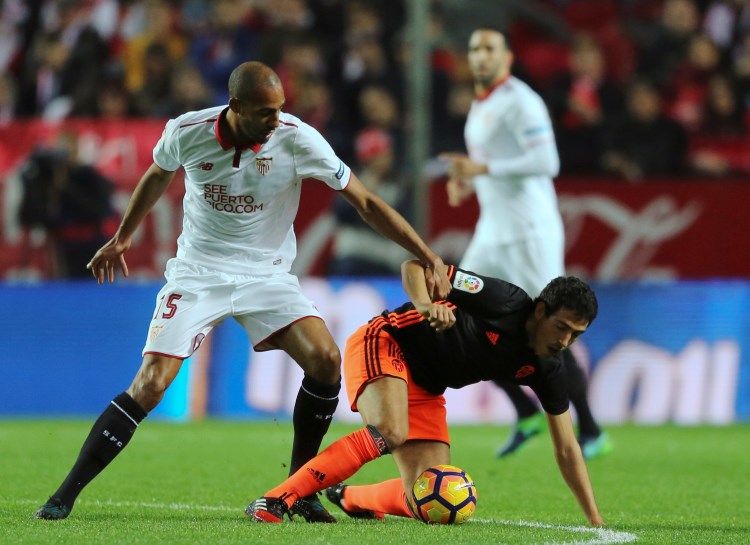 Surprise pick: Dani Parejo (right) battling for the ball
Just behind the strikers is the little magician- Lionel Messi. The Argentinean has had another productive season, handsomely winning the Pachichi (top-scorer) with 37 goals in 34 appearances. Though he failed to guide Barcelona to the title or Champions League glory, his importance to the Catalonian giants seems to get greater and greater every season. Messi contributed to 38% of Barcelona's xG total, and his xGI/90 minutes was a staggering 1.15, making it impossible for him to be left out of this team.
Luis Suarez and Cristiano Ronaldo complete the team, with the pair playing as out-and-out strikers. Whilst Suarez didn't have as emphatic a season scoring wise as he did in 2015/16 – when he netted 40 times – his overall contribution to an adapting Barcelona has been impressive. He managed 29 goals and 13 assists this season, and with an xGI total of 37.3, he was the league's most involved forward player. Suarez, like Messi, boasts an extraordinary xGI/90 minutes figure of 1.17, also the highest in La Liga, so he will be crucial to Ernesto Valverde's plans going forward at Barcelona.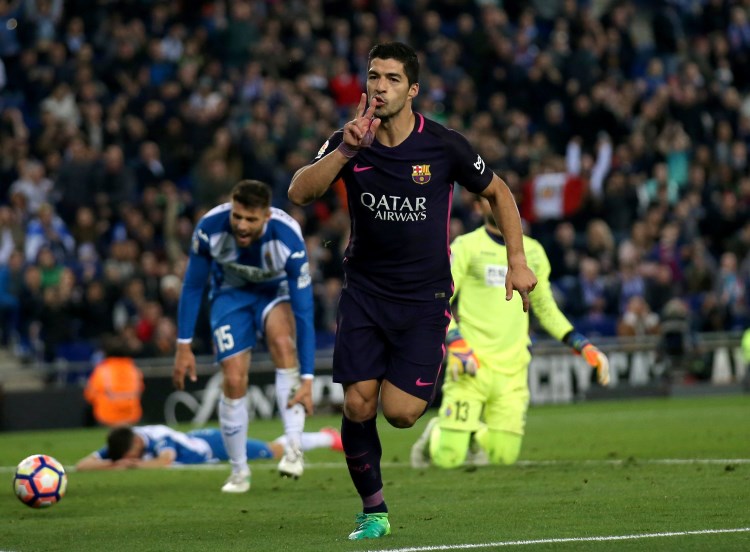 Important: Suarez involved in 39% of Barcelona's total xG
Cristiano Ronaldo also had an under-par scoring season compared to his lofty standards, managing just the 26 this season, but this was mainly down to good management by Zinedine Zidane in choosing to, and managing to persuade him to, rest in certain matches to save himself for the end of the season. Ultimately, the plan worked, as Ronaldo was instrumental in securing the La Liga title and Champions League title, scoring 16 in his last 10 matches of the season. Ronaldo began playing alongside Benzema in a striker role toward the end of the season, a switch which looks to have worked for both the player and his team, which is why he is playing upfront in this team. His xGI/90 minutes is also high, 0.9, and his contribution to Real Madrid's xG total was unquestionable, and it will be interesting to see how his game develops over the next few seasons.

Recent blog entries