England's World Cup midfield options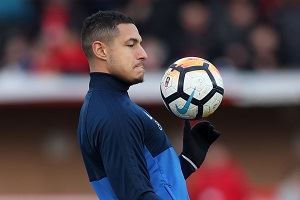 Gareth Southgate has a few selection dilemmas when it comes to choosing his midfielders for the World Cup, and using expected goals (xG) data, Infogol explains why.

Central Midfield
Southgate has called up six central midfielders to his most recent squad, with question marks over a few selections. Lewis Cook earned his first senior call-up, and he is joined by Eric Dier, Jordan Henderson, Jake Livermore, and Jack Wilshere. Has he made the correct choices?
To help; Defensive metrics in football are still in their infancy.
Non-shot expected goals models can be used to quantify how valuable possession in a particular area of the field has been worth. As a result, we can also quantify the worth to the defending team if they take away that possession by a variety of defensive actions, such as tackles, interceptions or clearances.
It's possible to isolate a player's worth in terms of expected goals denied, much in the same way as attacking players are categorised by the expected goals of the chances they create or attempt to convert.
For example, as the table below shows, 13% of the expected goals denied by Tottenham belong to Eric Dier when he is on the field.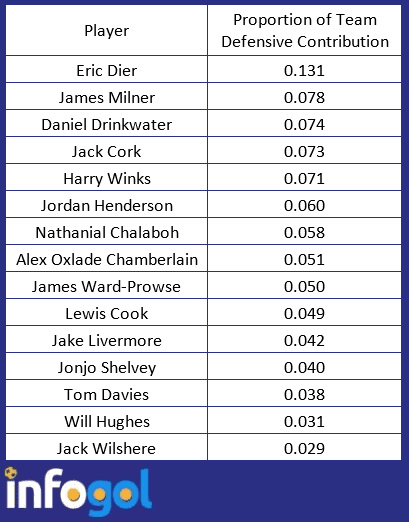 Deserve to be in the squad?
Eric Dier and Jordan Henderson are the most obvious (and deserving) selections given that they play regularly for two of the best teams in the country. Dier boasts the most impressive defensive stats of any English player this season, contributing to 13% of Tottenham's expected goals denied.
Henderson has been good in both attacking (0.15 xGI/90) and defensive (6% of xG denied) processes this season, and offers international experience as well.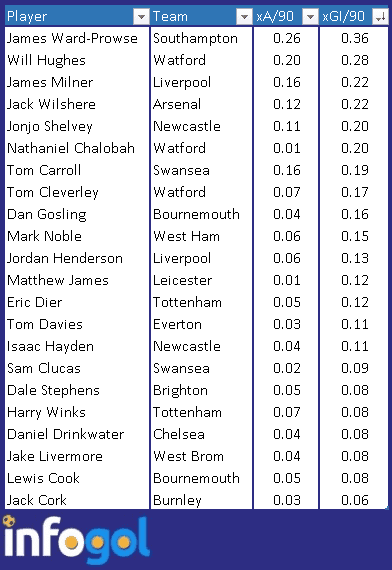 A lot of people have been calling for Jack Wilshere to be in the England set-up once again, but has he deserved his place? He has been the joint third best central midfielder based on attacking stats, averaging 0.22 xGI/90, but has been the worst defensively.
He contributes to just 3% of Arsenal's expected goals denied, which throws up a selection problem for Southgate - if he opts for a 3-4-3 formation as he has recently, Wilshere may leave England exposed if played in a midfield two.
Bournemouth regular Lewis Cook doesn't appear to contribute much to his team both offensively and defensively, and was possibly picked based on this idea of a pathway given that he captained England's under 20's to World Cup glory last year?
Jake Livermore's inclusion should also be questioned. He currently plays for a team that sits bottom of the table in the Premier League and are destined for relegation, but more importantly he contributes only 4% to their expected goals denied.

Any players that were overlooked?
A few names stand out. The first is James Milner who has been playing more regularly in central midfield for Liverpool. He has the joint third best attacking record of all English midfielders this season, averaging 0.22 xGI/90, and the second best defensive contribution record – so he is in form.
James Ward-Prowse has also impressed on an attacking front this season, with his 0.36 xGI/90 the highest of any English midfielder, but he has failed to nail down a starting place at struggling Southampton.
Jonjo Shelvey's impressive performance against Southampton showed what he is capable of, but he is let down by his inconsistency and defensive contribution.
Danny Drinkwater isn't getting enough game time, but the minutes he is getting for Chelsea are in a team that plays the same system that Southgate is trying to implement. Drinkwater has the third best defensive contribution stats of any English midfielder, and if he plays more before the end of the season, he should be on the plane.

Attacking Midfielders
Southgate pretty much spot on
Gareth Southgate has opted to pick five attacking midfield players for the upcoming friendlies with the Netherlands and Italy, but do Raheem Sterling, Dele Alli, Alex Oxlade-Chamberlain, Adam Lallana and Jesse Lingard all deserve to be there?
Dele Alli and Raheem Sterling have both been very impressive this season, with their processes being the best of any English attacking midfielders in the Premier League this season.
Both have come under unfair criticism at some point in their young careers, but both are excellent contributors to their respective teams when it comes to expected goals and expected assists (added together to get expected goal involvement), with Sterling averaging 0.73 xGI/90 and Alli 0.54. Based solely on this metric, both players should start at the World Cup as they both create, and get on the end of, more and better chances than their fellow attacking midfielders.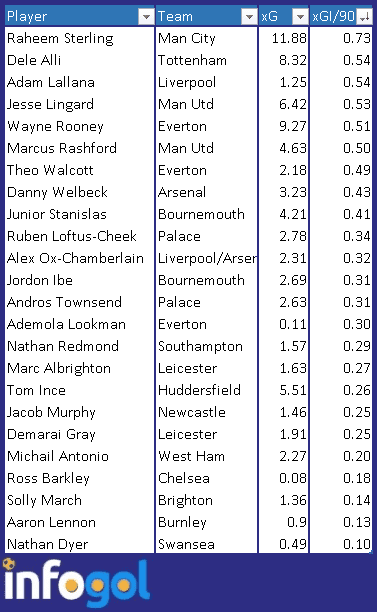 Jesse Lingard has surprised many this season with not only how frequently he has played for Manchester United, but also how well he has played. He is behind only Alli and Sterling when it comes to xGI/90, and has certainly earned his place in the England squad.
Oxlade-Chamberlain has featured much more for Liverpool in recent weeks, and has been performing well. His ability to also play centrally makes him a sensible selection, especially as he contributes a fair bit (0.32 xGI/90) to an already attacking Liverpool team.
Adam Lallana is the interesting selection, as he has played very few minutes this season – the equivalent of three 90 minutes. In the short time he has played though, he has been very effective, but he is short of match practice ahead of these friendlies.

Anyone else deserve a call-up?
Two Crystal Palace players have impressed in what has been a tough season for the Eagles; Andros Townsend and Ruben Loftus-Cheek. Both have already been capped for England, and had Loftus-Cheek not been injured he may have been in this squad.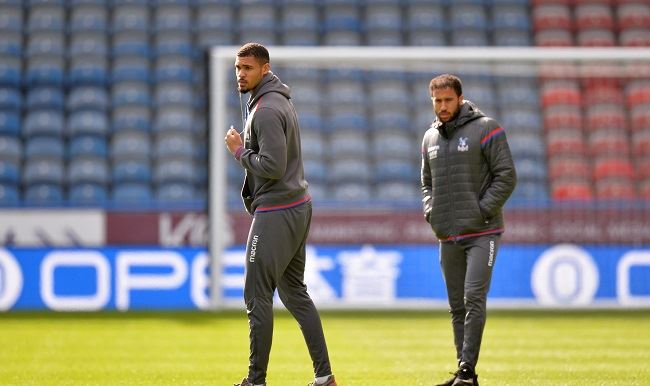 Townsend's expected assists per 90 minutes this season is one of the highest of any attacking midfielder, 0.22, but has been overlooked for a number of similar of players already in the set-up.
Theo Walcott seems to be enjoying his move to Everton and has posted some impressive numbers in his short time there. He is averaging 0.49 xGI/90 this season, and if he continues in this form, he has a decent shout of getting a call up.
Conclusion
In terms of attacking midfielders, Gareth Southgate appears to have got his selection pretty much spot on. With the exception of Lallana due to a lack of game time, everyone else is fully deserving of their place in this squad, and probably the World Cup one, too.
Central midfield options have thrown up a few problems however, with the inclusion of Jake Livermore somewhat bemusing. Jack Wilshere's lack of defensive contribution is also a worry for England, especially if he plays in a two man midfield, and Danny Drinkwater would have been a better fit for the formation.
Let us know which midfielders you think should be on the plane for England at the 2018 World Cup…
Join the debate on Twitter and Facebook

Recent blog entries