England's World Cup Keeper Dilemma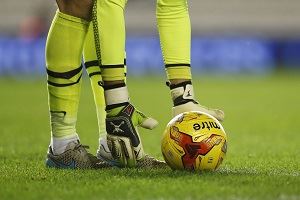 After goal scorers and creators, goalkeeping has been the position that has received most attention following the steady rise of event based analysis of football.
Shot stopping is just one of the attributes required from the modern day keeper, but it does remain a substantial part of their expected skillset.
The days of rating a goalie on his or her number of clean sheets or goals conceded are long gone and rightly so.
Particularly as many of these basic statistics are as much down to an overall team effort, as the individual contribution of a side's last line of defence.
To illustrate, in the 2017/18 season, Stoke's England prospect, Jack Butland has faced the equivalent of 5.7 on target attempts per 90 minutes compared to just 4.1 per 90 for his rival at Burnley, Nick Pope.
Overall, Butland has had 159 opportunities to concede or save a goal, Pope just 108.
These on target attempts can range from weakly hit shots from distance that arrive at a comfortable height, to powerfully hit close range efforts that deflect wickedly towards the top corner of the goal.
Therefore, even allowing for opportunity by calculating save rates, omits large chunks of information about a keeper's performance that pre-shot location and post shot attributes are increasingly providing.

What is xG2?
Expected goals models from the keeper's perspective, named xG2, are bridging the gap between unhelpful, team based rates and a truer idea of the scale of the task faced by a keeper every time he prevents or fails to prevent a goal bound shot or header from entering the goal.
We now know if a keeper faced a shot or a header, where that attempt originated from, if it was hit with pace, swerve or took a deflection. Whether it travelled from near post to far post and where on the frame of the goal it was destined to enter the net.
Actual historical outcomes from 1,000's of diverse attempts at goal then allow us to estimate the likelihood that an average Premier League keeper would save any future goal attempt.
We can compare a keeper's actual performance to this predicted average to come to cautious conclusions about his likely level of talent.
As a broad generalisation, a keeper who faces chances worthy of 40 expected goals and concedes just 35 might be considered above average.
But might be below par if he allowed 45 actual goals.
England has around six candidates for the keeper's jersey at the World Cup, but none is playing for a top ranking Premier League team.

Which England Goalkeeper has performed best this season?
The table above shows the accumulated expected goals for each on target attempt faced by six potential England prospects for Russia.
Pope has performed best overall in shot stopping this season.
The accumulated expected goals for all on target attempts he has faced based on their pre and post shot attributes is 30.3 xG and he has allowed just 22 goals, excluding own goals.
Pope's over performance eclipses Butland and Pickford, who have both allowed about as many goals as an average keeper would concede based on the quality of the attempts they have faced.
Forster has underperformed, as have former England number one Ben Foster and the most capped keeper of the bunch Joe Hart.
So already we have been able to more objectively classify the candidates for Gareth Southgate's Russia squad.
Pope has performed well above the historical average for a Premier League keeper, Butland and Pickford are both average 2017/18 performers, despite conceding nearly 100 goals between them and veterans of England games, Hart and Foster are by now well below the usual top flight standard.
Ideally, every assertion should be qualified by a degree of certainty.
Comparing actual outcomes to a modelled process always has uncertainty, because the actual record of each keeper will inevitably contain randomness.
Pope may simply be an average keeper who has enjoyed random, if positive variance in his outcomes and we would like to know how likely that scenario is to have occurred.
So a further step is to simulate each individual attempt faced by Pope, 1,000's of times to see how frequently our average keeper model equals or betters Pope's 22 goal performance.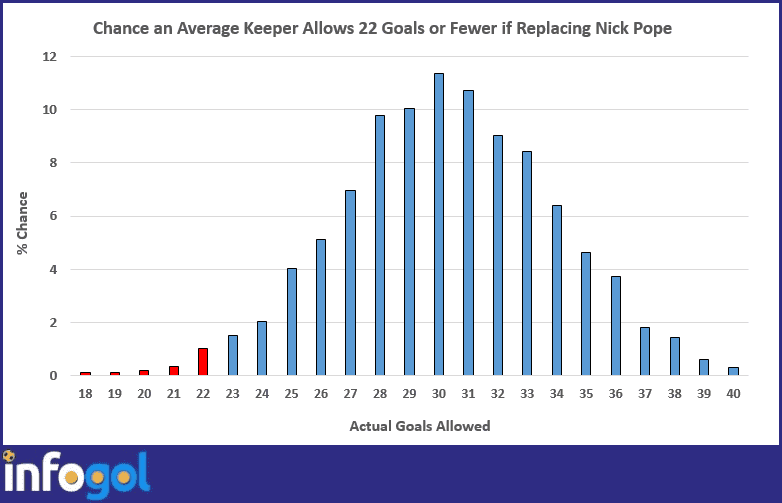 In only 1.8% of the simulations does the average keeper model do better or equal Pope's actual record of allowing 22 goals.
This reinforces our belief that Pope has produced an above average performance and randomness is unlikely to be the major cause.
There are however, other caveats.
Burnley have used an unusual defensive approach that invites shots, but applies a lot of defensive pressure, leading to many attempts being blocked.
In addition, those that do reach Pope may be atypical of attempts used to build the initial xG2 model and we should entertain the idea that some shots and headers faced by Pope aren't as potent as we might think.
Also, in a technical position, such as goalkeeper, players can produce rapidly fluctuating performances from season to season.
Fraser Forster was above par in both 2014/15 and 2015/16, but well below par in 2016/17.
Who should be goalkeeper for England at the 2018 World Cup?
Overall, Nick Pope is the clear winner over the current Premier League season, based purely on shot stopping. There's little between Pickford and Butland, but Joe Hart would appear to be a declining luxury that England cannot afford to take to the finals.
Let us know who you think should be goalkeeper for England at the 2018 World Cup…
Join the debate on Twitter and Facebook

Recent blog entries