England's World Cup defensive options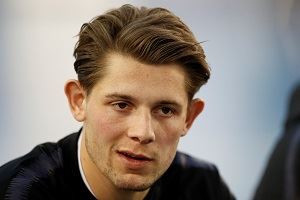 Gareth Southgate has named 10 defenders in his latest squad, five full-backs and five centre-backs. This makes plenty of sense with him electing to play five at the back, but has he made the right decision in calling some players up? And should some of those left out feel hard done by?
Defensive metric explained
Defensive metrics in football are still in their infancy.
Non-shot expected goals models can be used to quantify how valuable possession in a particular area of the field has been worth. As a result, we can also quantify the worth to the defending team if they take away that possession by a variety of defensive actions, such as tackles, interceptions or clearances.
It's possible to isolate a player's worth in terms of expected goals denied, much in the same way as attacking players are categorised by the expected goals of the chances they create or attempt to convert.
For example, as the table below shows, 27% of the expected goals denied by Burnley belong to James Tarkowski when he is on the field.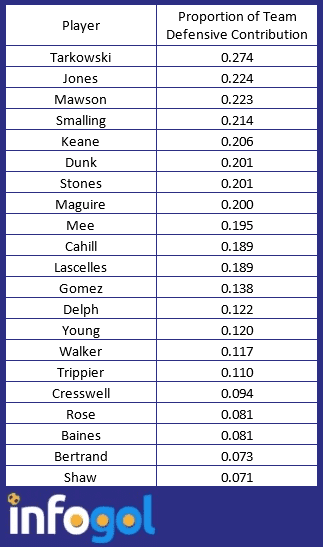 Centre Backs
The five centre-backs that make up the latest England squad are; Joe Gomez, Harry Maguire, Alfie Mawson, John Stones and James Tarkowski. Has Southgate made sensible choices or are some other players deserving of a call-up?
The surprise name in the latest England squad is that of Burnley man Tarkowski, though the 25 year-old had been tipped by many pundits to earn a call-up after an excellent season. Of all the English centre backs in the league, he has denied the highest percentage of his teams of expected goals – as can be seen in the graphic above.
Alfie Mawson is another player earning his first call-up, and like Tarkowski has shown up well on defensive metrics, denying 22% of Swansea's expected goals against this season. Both of these players do the lion's share of their team's defensive process and both are good additions to a squad that may need to do a lot of defending in the World Cup.
Harry Maguire continues to impress for Leicester and he is the biggest attacking threat of all the English centre-backs (0.17 xGI/90), as well as contributing a lot defensively.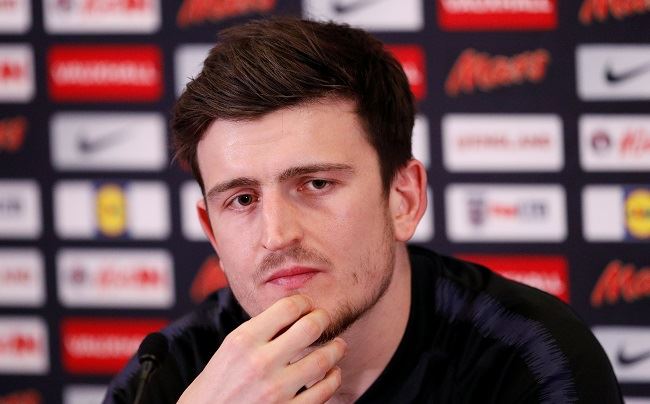 The selections of John Stones and Joe Gomez are interesting, though. As stated in our article looking at his attacking options, Southgate promised to pick only players 'in-form', and while the two players' process has been good this season, they have hardly played.
Stones has played only 190 of Manchester City's last 720 minutes, with Gomez playing just 282 of Liverpool's last 900 minutes –it's hard to be 'in-form' when you aren't playing. They appear to have been picked based on the last international break, where both impressed against Brazil and Germany, but is that fair?
One player that is fit and has been playing well is Chris Smalling. He might not be everyone's cup of tea, but when he plays for Manchester United he contributes 22% of the expected goals denied by his team – a higher percentage than both Stones and Gomez manage for their teams. Based on form, Smalling is unfortunate to miss out.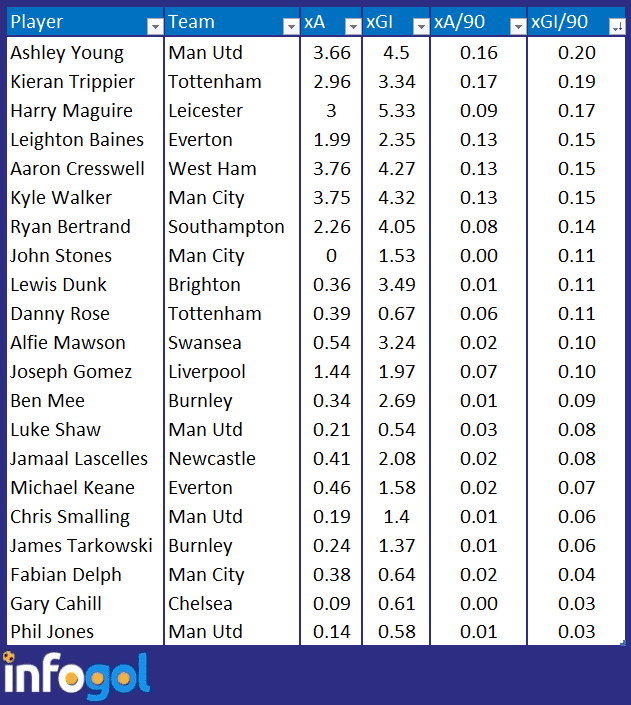 Full-Backs
Southgate has called up Kyle Walker and Kieran Trippier at right full-back, and Ryan Bertrand and Danny Rose at left full-back – with Ashley Young capable of playing on either side.
Both Walker's and Trippier's stats are more impressive than any other out-and-out right-backs, though Trippier's attacking output trumps Walker's (0.19 xGI/90 to 0.15 xGI/90) – and both have a similar percentage of expected goals denied this season (11%). Southgate has the selection right, but there is very little between the two in what they offer to the team.
The selections of Bertrand and Rose are more questionable.
Bertrand is playing regularly for a Southampton team that has struggled all season, and Danny Rose can't get a game for Spurs, so is Southgate right to bring them in?
As attacking full-backs, neither have impressed greatly when they have played, with both averaging fewer xGI/90 than both of the right-backs (Bertrand 0.14, Rose 0.11), and defensively they contribute less too.
Two candidates that have performed better over the season than the pair are Leighton Baines and Aaron Cresswell. Both have been as productive defensively but have offered more going forward (Baines 0.15 non-pen xGI/90, Cresswell 0.15 non-pen xGI/90).
Interestingly, Ashley Young has been the best English full-back this season. He has the highest xGI/90 of any full-back (0.2), so is better as an attacking source, and he has the second highest percentage of expected goals denied (12%) behind only the injured Fabian Delph (12.2%). His performances this season suggest he has a fair shout at starting at the World Cup.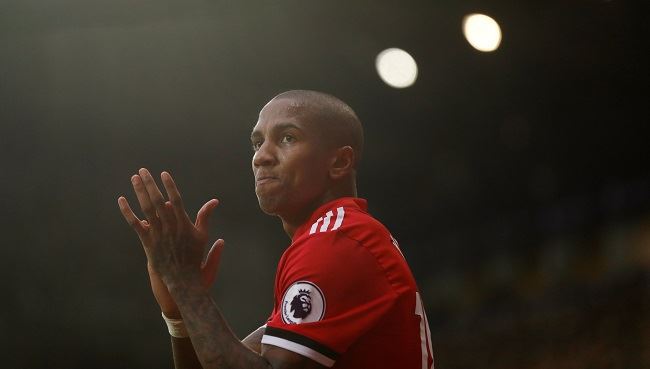 Who should go to the World Cup?
Ashley Young has been playing well enough to start at full-back (probably on the left) at the World Cup, with Rose and Bertrand perhaps fortunate to have made the squad. Chris Smalling can count himself unlucky not to be in the squad, with his performances being better than both Stones and Gomez. It will be interesting to see what road Southgate goes down when the time comes to name his squad for the World Cup, but he doesn't appear to be too far off with the defenders he has picked this time.
Let us know which defenders you think should be on the plane for England at the 2018 World Cup…
Join the debate on Twitter and Facebook

Recent blog entries