Brazilian Serie A 2017 Season Preview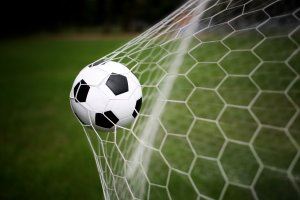 With the Brazilian Serie A Championship due to get underway on Saturday 13 May, the Infogol Analyst gives their Verdict on the value bets in the winner market, the relegation battle and the top scorer charts.
By analysing the underlying events in a match using sophisticated mathematical techniques, Infogol creates a much clearer picture of the game than simply the result. This allows us not only to visualise what a fair score line would have been in a given match, but also to predict the future outcomes of matches and even seasons. Infogol has used this methodology to record a strike-rate of over 50% with the Analyst Verdict in English Premier League matches in the 2016/17 season, returning a healthy profit for followers.
With the wealth of information and data available in the Infogol app, let's look ahead to what promises to be a hugely exciting 2017 Brazilian Serie A season.

Outright Winner
Last season's Brazilian Serie A conclusion was, of course, overshadowed by the tragic events surrounding Chapecoense, who went on to finish in 11th place and were crowned Copa Sudamericana Champions.
But the Serie A division in 2016 was won in good style by Palmeiras, who collected 80 points from their 38 matches to finish nine points clear of Santos and Flamengo on 71.
Palmeiras were the highest scorers in the division with 62 goals and also had the tightest defence, with just 32 conceded, a goal difference of 30. Their expected goals (xG) difference was around ten lower, at just 21.6 according to the Infogol model, but that was in itself much higher than any other team in the league, reflecting that they were deserving winners.
They have since seen star performer Gabriel Jesus leave for Manchester City, but Palmeiras still have a strong enough squad to mount a stern title defence, with the likes of Roger Guedes, Dudu and new signings Felipe Melo and Miguel Borja (transferred from Copa Libertadores winners Atletico Nacional) set to play key roles.
However, at odds of 5/2, it's well worth looking at some of the other teams for a better value bet in the outright winner market.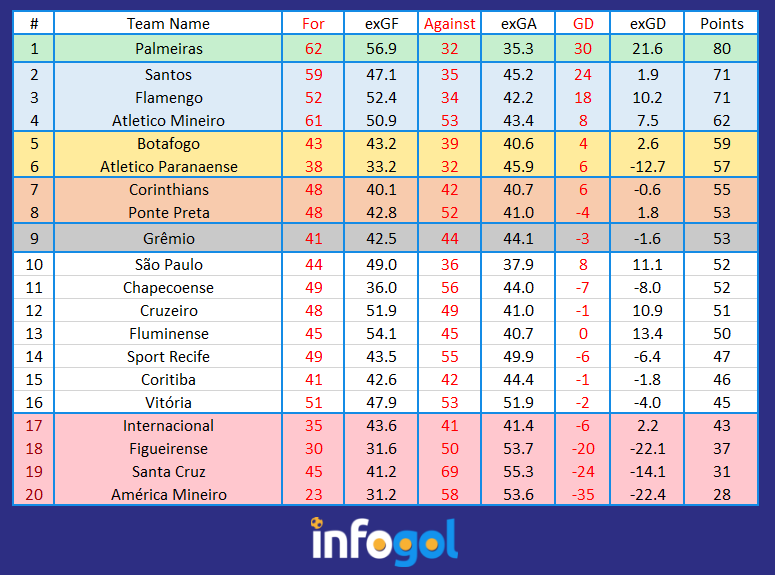 Key: For (Actual Goals Scored), exGF (Expected Goals For), Against (Actuals Goals Conceded), exGA (Expected Goals Against), GD (Goal Difference), exGD (Expected Goal Difference), Points (Actual Points in 2016 Serie A season)
Santos and Flamengo, who finished joint-second, were themselves clear of the chasing pack.
Flamengo look to have slightly over-performed according to our goals model, a GD of 18 being eight more than expected, and Santos also appear to have overachieved in terms of their points haul and are expected to find things tougher this time around. Santos ended the season with an expected goal difference of 1.9, but an actual GD of 24, outperforming their xG in both attack and defence. Forwards Ricardo Oliveira and Jonathan Copete clearly had a good run in front of goal and the defensive team of Braz and Henrique look to have over performed, but these figures will be hard to replicate this time around.
Two interesting teams last season were Cruzeiro and Fluminense, who finished 12th and 13th respectively.
Fluminense finished the season with the second highest xGD in the division (13.4), bettered only by the Champions Palmeiras. For all the exploits of the division's joint-leading scorer Fred, who got 14 goals, Fluminense found the back of the net only 45 times in 38 matches. Fred has since departed for Atletico Mineiro, and replacing his goals in a team that otherwise struggled in attack, is a challenge, but they have brought in Henrique Dourado, one of the top scorers in Portugal last season, to try and replace Fred's goals.
Cruzeiro also finished 2016 in the bottom half of the table, failing to match their xGD of 10.9, largely on account of conceding more than might have been expected. They have strengthened for the upcoming season, signing defensive midfielder Lucas Silva on-loan from Real Madrid and centre-back Luis Caicedo Medina from Ecuadorian side Independiente del Valle, as well as having striker Rafael Sobis fresh for the start of his first full season after signing in July 2016 from Mexican team Tigres, so they could mount a challenge.
The dark horse in the pack is Sao Paulo. They finished 2016 in tenth place in the league on 52 points, some 28 points behind the leaders Palmeiras, and performed pretty much in line with their expected goals. So what makes them so interesting?
2016 Brazilian Serie A Goals Sparkline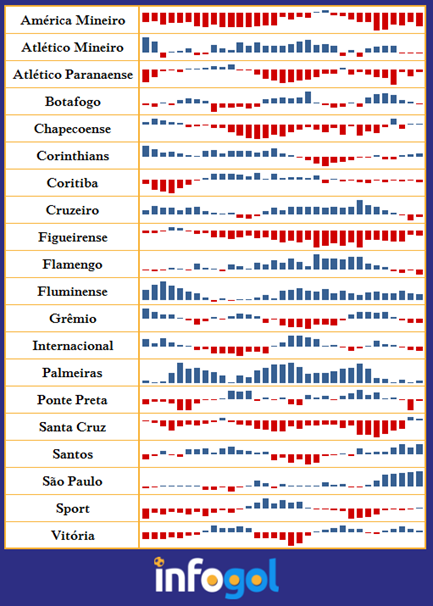 Looking at the Sparkline above, which shows a rolling six-game expected goal difference for each team, it can be seen that Sao Paulo finished 2016 strongly. They are expected to carry that form into the new season, especially as they invested well in the transfer window, bringing in Argentine International forward Lucas Pratto from Atletico Mineiro, centre-back Maicon from Porto and attacking playmaker Cicero from Fluminense.
Infogol gives Palmeiras and Sao Paulo both around a 30% chance of winning the title, meaning that at the huge price of 16/1, given performances last season and the strengthening they have done in the transfer window, Sao Paulo look overpriced to cause an upset and win the title.
Recommended Bet:
Sao Paulo to win the league @ 16/1
Cruzeiro to win the league @ 16/1
2017 Brazilian Serie A Forecast League Table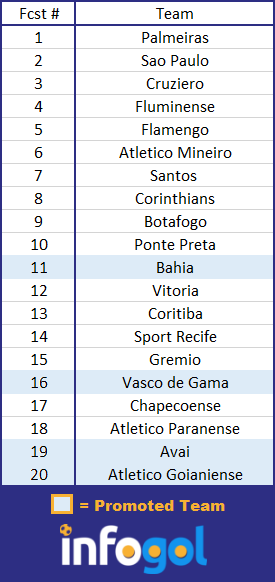 Relegation
At the other end of the table, promoted sides Avai and Atletico Goianiense are forecast to go straight back down to Serie B, but the best value bet to join them looks to be Atletico Paranense. They finished a highly respectable sixth in 2016, with 57 points, but comparing actual goal difference of 6 against an expected difference of -12.7 suggests things could easily have been very different. Atletico Paranense struggled in the second half of 2016, reflected in the sparkline above, and losing key central midfielder Hernani to Zenit (Undisclosed fee) and Marcos Guilherme to Zagreb (paid loan) without spending money to replace them may see them struggle this term.
Recommended Bet:
Atletico Paranaense to be relegated @ 7/2
Top Scorer
Last season's top scorers, Fred (Fluminense), William Pottker (Ponte Preta) and Diego Souza (Sport Recife) were tied on 14 goals after 38 matches. The latter pair both over-performed against xG, but Fred's expected goals was in line with what he actually achieved and he's sure to be up near the top of the charts again for his new club Atletico Mineiro.
2016 Brazilian Serie A Top Scorer Chart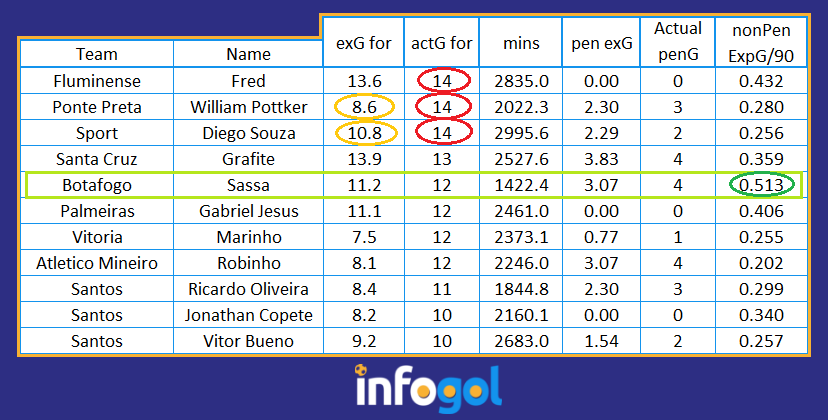 Fred's non-penalty Expected Goals per 90 mins of 0.432 in 2016 was bettered by only one player in the top ten, Luis Ricardo Alves. Sassá, as he's better known, scored 12 times in 2016 for Botafogo having forged his way into the team. He was regularly being used as an impact sub at the start of the season, before earning a place in the starting team only to be regularly subbed off early. The 23-year-old didn't get as many minutes as might have been expected but, regardless, he averaged the highest expected goals per 90 mins in his team. After another year of maturing, Sassá is expected to be the main man for Botafogo this season and accrue more minutes and goals this time around.
There are also a number of high-profile players that have returned to Brazil for the 2017 season, including the likes of Luis Fabiano (Vasco da Gama), Michael Bastos (Palmeiras), Jo (Corinthians) and Eduardo (Atletico Paranense). Of those, Luis Fabiano, who has been top scorer in Brazil in the past, looks interesting, as he showed he still has something to offer at the age of 36 last season, netting 22 times in China.
With Sao Paulo expected to go well this season, their new marksman Lucas Pratto could be in with a shout of being this season's top-scorer, if he can emulate the good form that saw him picked in the Argentina team ahead of the likes of Sergio Aguero and Paulo Dybala.
Recommended Bets:
Lucas Pratto top scorer @ 11/2
Bet Summary
Sao Paulo to win the title @ 16/1, Cruzeiro to win the title @ 16/1, Atletico Paranaense to be relegated @ 7/2, Sassá top scorer @ 6/1, Lucas Pratto top scorer @ 11/2

Recent blog entries