Expected Goals: The Premier League State of Play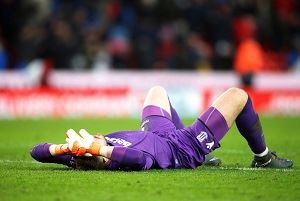 The 2017/18 Premier League season is 27 games old and it is possible that by May, historical highs could be set at both ends of the table. Mark Taylor provides an update on the season so far and what it all means for the remaining 11 matches.
How good are Manchester City?
Manchester City have swept almost everyone before them in leading the table, claiming a 16 point lead.
Only league milestones remain to be achieved by Pep Guardiola's team, as they will certainly regain their title in May and their current tally of 72 points represents the most dominant points gathering achievement by a side after 27 games in the history of the competition.
The average number of points won so far by all teams in 2017/18 is just under 37 points and City's current proximity to this season's average performance is the furthest away a table-topping side has been since the Premier League took its present form in 1995/96.

While Manchester City are outstripping the achievements at a similar stage of the season of neighbours United in 2000/01 and 2012/13 and Arsenal's so called "Invincibles" from 2003/04, the state of play at the foot of the table is even more intriguing.
Although WBA may soon be cut adrift, resuming their status as a "yo-yo club", a historically high number of sides are anxiously looking downward towards the Championship.
Which teams are in a relegation battle?
With just 11 games left, over half of the table, from Bournemouth downwards, could still be dragged into the relegation dogfight and the proximity and number of a team's immediate rivals is of huge importance at this stage of the campaign.
Just as Manchester City are the "best" leaders after 27 games, Stoke are the closest a 19th-placed team has been to that season's average points tally in Premier League history.
Compare the current plight of Stoke to Sheffield Wednesday's 1999/200 side, the worst performing 19th-placed team through 27 games, who were by then 10 points adrift of 17th spot. Whereas, Stoke are currently only 10 points behind eighth-placed Leicester.
18th-placed Southampton are also historically, the best such side after 27 games and Huddersfield are the second-best 17th-placed team in the 23 iterations of the Premier League in its present format.
As we move higher up the table, positions that would usually signify an uneventful final run in for their occupants remain precarious.
Newcastle occupy 13th, a spot that has been filled by just two teams who have had more to fear from the prospect of relegation since 1995/96.
Aston Villa in 2013/14 were closely surrounded by a raft of rivals and they fell to 15th at the end of the season. Similarly, West Ham, the least impressive 13th-placed team after 27 games to date, slid all the way to 17th after the final game of the 2009/10 season.
In short, mid table is clogged up with historical under achievers and the relegation positions are filled by largely over achieving clubs for that position.
While opportunity is one thing, the ability to carry out a great escape, even under the most favourable of conditions, relies on the underlying ability of a team.

What are Stoke's chances of survival?
WBA's implied probability for relegation now exceeds 0.7, but Stoke's survival prospects are slightly greater.
If Charlie Adam had scored their injury time penalty against Brighton with the game tied 1-1, simulations of the remainder of the season would have given the Potters a 66% chance of staying in the Premier League. The miss leaves them with just a 46% chance of survival.
But of more concern for Stoke is their declining, underlying process in their final season under Mark Hughes.
Expected goals trends measure the quality and quantity of the chances that a side is creating and allowing, rather than simply the actual goals scored and conceded. The latter can be subject to random effects, particularly in such a low scoring sport as football and the former, based on larger sample sized attempts on goal gives a more reliable indication of a team's wellbeing.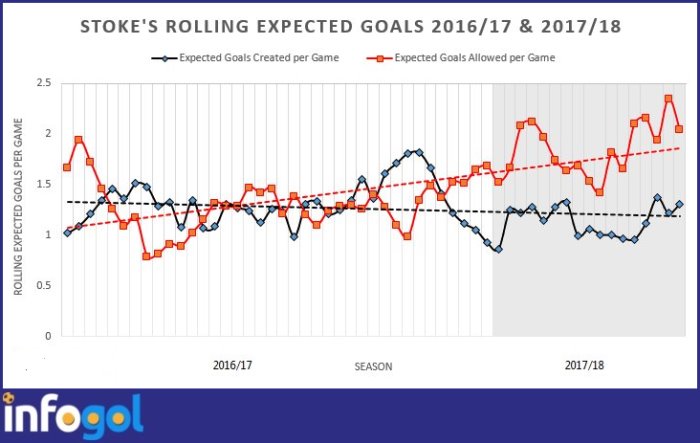 Where has it gone wrong for Stoke?
A Premier League team becomes vulnerable to relegation once their defensive process begins to concede larger xG totals per game than they themselves create and Stoke's overall process began to decline towards the end of the 2016/17 season and continued, unabated throughout 2017/18 until Hughes was replaced by Paul Lambert.
Their attacking process stagnated, barely staying above 1 xG per game, and Stoke's defensive process - often their strength under previous manager Tony Pulis - has trended towards an eye-watering 2 xG per game.
The Potters are 19th on merit, albeit still within touching distance of survival.
Universal end of season survival points targets are often misleading, particularly when teams have very different goal differences. Also, fixture lists are intertwined and in achieving a final points total, relegation-threatened sides may take points from their rivals, which may subtly alter the number of points they need to escape the drop.

Which teams are most under threat of relegation?
Therefore, each of the relegation threatened teams has its own slightly different final points total, where survival becomes more likely than not.
If Stoke manage to accumulate 37 points after 38 games, they would currently only be slightly more likely to stay up (56%) than go down (44%), largely as a result of their poor goal difference.
But if WBA reach that target, not only would they improve their goal difference, they would also likely take points from fellow strugglers Huddersfield, Swansea, Crystal Palace and Newcastle. And that would give them an 82% chance of surviving with the same 37 points total.
The title race may have become a one horse race, but the relegation scrap is only just beginning.
Recent blog entries