The Best Mid-Season Handicap Bets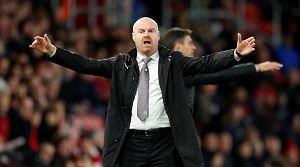 With Manchester City already 9/1-on to win the league after only 11 matches, the outright market has already gotten stale. Betfair though, have recently priced up a fresh, mid-season handicap market for this year's Premier League title, so our Analyst has run the numbers and produced two cracking bets.

Manchester City have already built up an eight point lead at the top of the table, winning 10 and drawing one of their opening 11 matches. Their supremacy so far can be seen by the price that they are to win the league, just 9/1-on, which isn't worth backing for most of us. Instead, Betfair have priced up a mid-season handicap market for the Premier League outright. Using existing ratings, previous and upcoming match data, points collected and the current gap to the leaders, Infogol's model has produced the best bets for this market.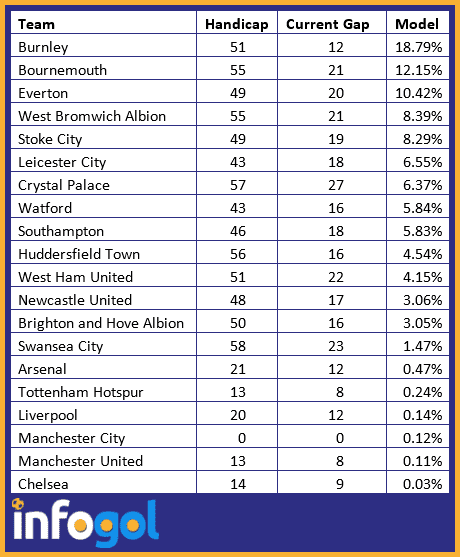 As can be seen in the above image, Burnley are shown as having the best percentage chance (18.79%) of winning the league with the mid-season handicap they have been given by Betfair. Sean Dyche's men have made a great start to the season, winning five of their 11 matches so far, and they sit seventh in the table with 19 points as a result. They have been fortunate in some matches, but those points they have won cannot be taken away from them in this handicap market.
Their handicap is +51 points, which, added to their 19 already accumulated, gives them 70 points with 27 games to go – meaning they will more than likely need just a point a game from now until the end of the season to win this market (the average number of combined points needed over the last nine years is 96.5 – minus Leicester's extraordinary season). Another thing in their favour is that they have already faced a lot of the 'big teams' away from home; beating Chelsea, drawing with Tottenham and Liverpool, beating Everton and losing to Manchester City. So in the second half of the season, they will be facing these teams at Turf Moor, and their home record over the last two season has been impressive.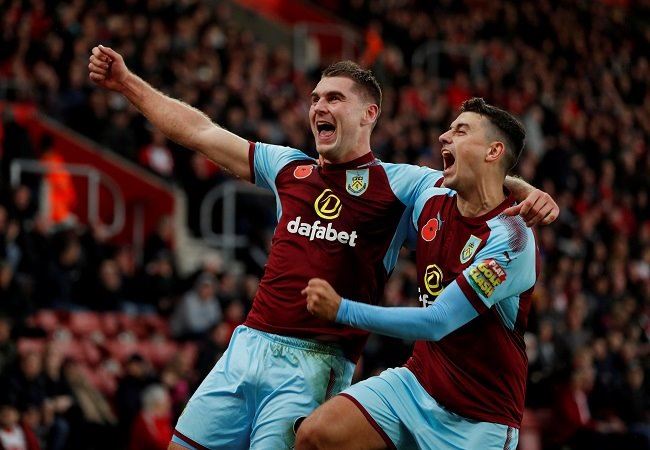 Bournemouth have the second best chance according to the Infogol model, but, according to Infogol's expected table, are rated as the worst team so far this season. They have one of the worst defensive records in the league (17.8 xG against), as well as having the third-worst attacking figures (9.3 xG for). The Infogol model is expecting their performances to bounce back to the higher levels of last season, but there has been little sign of that so far.
A safer bet, is Everton, who have a 10.42% chance of winning this market with the +49 point handicap they have been given by Betfair.
Though they have had their problems at the start of this season, early calls that they are in a relegation battle are inaccurate. According to Infogol's expected table, the Toffees should be mid-table (12th), as they have been very unlucky with some of their results. A goal difference of -12 and an expected goal difference (xGD) of -4.5 xG shows their misfortune, and their luck is expected to turn soon.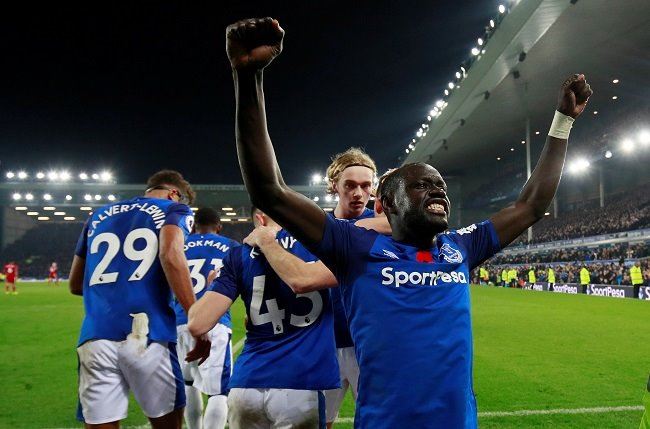 Like Burnley, Everton have faced most of the big teams already in what was a torrid run of fixtures; Manchester City, Chelsea, Tottenham, Manchester United and Arsenal are all out of the way, meaning they are expected to pick up points in 'easier' upcoming fixtures. Though they have yet to appoint a permanent manager, the expensively-assembled squad of players should be more than capable of producing an upturn in results, and if needs be, more players could be added to the squad in January. With a mid-table finish forecast, and with 60 points (including the handicap) already on the board, they too look a good bet at 16/1.
Recommended Bets
Burnley +51 handicap @ 12/1
Everton +49 handicap @ 16/1
Link to Handicap betting page > https://www.betfair.com/sport/football

Recent blog entries