Identifying the Pass Masters: A New Metric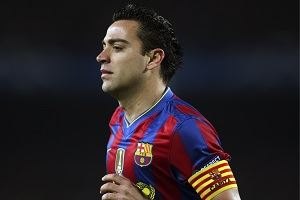 It's sensible when attempting to devise a new metric or when revisiting an established one to see if the conclusions drawn appear to be authentic and credible.
For example, if you wish to describe team quality, it's desirable that teams that have done well in the league tend to be grouped near to the top of such a rating, rather than mixing indiscriminately with relegation candidates.
Often this leads to a realisation that the initial metric is flawed in one way or another.
This was the case when pass completion rates were regularly used to identify the game's best passers of a football.
The tipping point for pass completion rates occurred in January, 2012, when a host of publications championed the merits of Swansea's journeyman midfielder, Leon Britton.
Britton at the time topped the table for pass completion rate in Europe's big leagues with 93.3% narrowly beating out Barcelona's Xavi and Chelsea's John Terry.
Xavi aside, the top three were an unexpected trio of passing masters and the problems with such an approach were easy to spot.
At the time Swansea used possession as a defensive strategy on their return to the top flight.
Opponents could not score if they did not have the ball and Swansea aimed to possess the ball for long periods of the match, albeit in non-threatening areas of the pitch, such as their own half.
The tactic showed moderate returns, helping the Swans to five goalless draws before Christmas.
Britton was a key component of Swansea's style, regularly circulating the ball in their own final third, accruing pass completions with relative safe and simple passes.
Xavi, by comparison was making his passes in much more elevated pitch positions, where defensive pressure was much more intense and the rewards from completing these more difficult passes was heightened.
So the comparison was fatally flawed because it lacked context of the difficulty of the passes being attempted by each play.
The footballing world was not fooled by such an imperfect evaluation and Xavi's market value remained at around £45 million, whereas Britton's rose, but only to the region of £3 million.
A major overhaul of how passing was valued was needed. One that combined and rewarded passing volume, pass difficulty, but also accounted for the value a completion added to a side, along with the cost should that pass be misplaced.
Passing difficulty can be easily estimated in a similar way that chances are graded as expected goals.
Characteristics of the pass are gathered, such as where on the field the pass originates and where the intended end point is. These historical samples are then compared to actual completion rates to obtain a league wide baseline completion figure for every conceivable pass, which can be compared against a player's actual performance over a period of games.
Typically, Britton was making passes that an average Premier League player would expect to complete 90 plus% of the time, whereas Xavi's had a much higher difficulty tariff.
This solved half of the problem, but neglected to reflect on the attacking value Xavi's passes were adding to his Barcelona side.

One solution borrows from the sport of American Football.
The play by play nature of the sport has produced an extensive database of situations spreading from one end of the pitch to the other, allowing for any possession to be valued, based on the pitch location and remaining downs.
A 2nd and 10 from an opponent's 30 yard line is worth a particular number of expected points.
A three point field goal is already in range, a possible touchdown may be an even better outcome and there is a small possibility that the ball may be turned over to the opposition.
Similarly, in association football, possession in a particular area of the field can be given an equivalent expected goals value. Intuitively this will be much smaller in your own half, compared to in and around the opposition penalty area.
Therefore, we can assign both the league typical risk and reward involved when a player attempts to pass from one area of the field to another.
A Britton pass from 2012 might only advance the ball a few yards from in front of his own back four. The improvement in his side's location based expected goals is therefore negligible, but the likelihood of the pass being successful is very high.
If the pass was disrupted or intercepted it would hand a substantial expected goals possession to his opponents, but the likely completion rate is very high, so the likelihood of this occurring is reassuringly small.
By combining the risk and cost of failure with the reward and probability for a successful pass in terms of how much the expected goals value would change with either outcome, we can now begin to evaluate the true value of a player's passing contribution.
A more adventurous pass into the opponent's penalty area may only be completed historically 60% of the time, but it will substantially increase the non-shot expected goals of the possession. Failure is likely in 40% of cases, whilst handing a tiny expected goals possession to the defending side.
An individual successful pass would therefore over perform the average expectation of the model and a disrupted attempt would under-perform par.
We can do the sums for every pass attempted by a player to show, firstly, how adventurous is his or her passing and also whether the player over or underperforms our baseline figures by comparing the predicted outcome to each player's actual passing performance.
Here's the best dozen performers with 800 or more passes from this season's Premier League.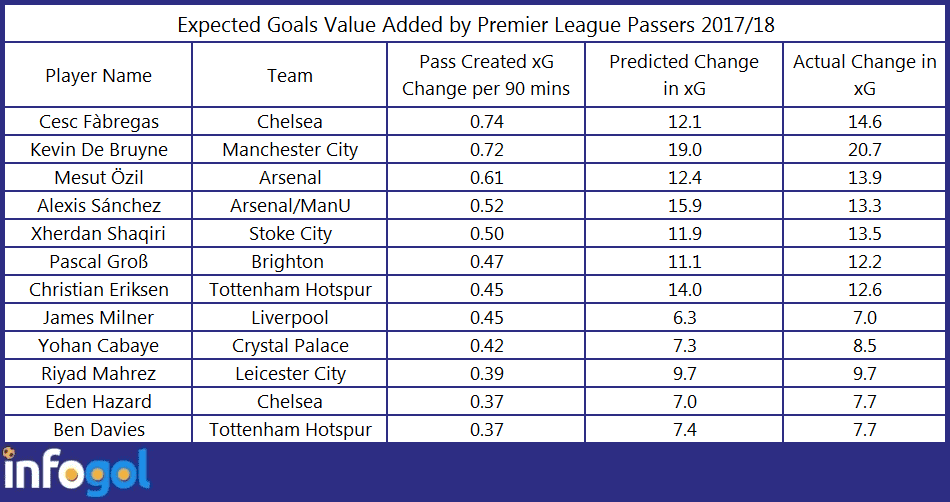 The list contains a reassuring array of passing talent.
The Barcelona schooled, Cesc Fabregas, City's Kevin De Bruyne, Arsenal's Mesut Ozil and Chelsea's Eden Hazard, along with less obvious, but undoubtedly talented creative forces, such as Pascal Gross, Xherdan Shaqiri and Yohan Cabaye.
The creative contribution from each player's attempts to find colleagues in dangerous positions is summarised in the first column, with the front runners advancing their side's non-shot goal expectation by nearly three quarters of an xG per 90 minutes.
The next column gives the cumulative total by which their passes would have helped their team had they performed to the league baseline and the final column records each passer's actual cumulative figure.
So Fabregas and De Bruyne both play higher risk and higher reward passes and both over-perform the model by completing more passes than expected.
Sanchez also plays adventurous passes, but he slightly under-performs the models expectation, whilst still adding considerable attacking value. His passes are slightly wayward, but not recklessly so.
Passing percentages still proliferate in much of the coverage, but by moving to expected goals based models, such as this we will avoid including necessary, but more workmanlike exponents of the passing game at the top of our order of merit.

Recent blog entries