Measuring the Success of Pressing Teams Using Expected Goals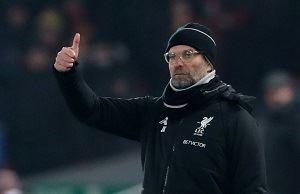 Champions elect, Manchester City are currently the best team in the Premier League at scoring goals. Regardless of whether you look at actual or expected goals (xG), Guardiola's team has the highest scoring rate per game of any current team.
City also have the best defensive record, again as measured either by actual goals allowed or the quality and quantity of chances they have conceded.
At the foot of the table, WBA now has the least potent actual attack following Swansea's recent resurgence under Carlos Carvalhal and very nearly the league's worst actual defensive record.
These two extremes illustrate an interconnected dependency between the ability to score and the ability to prevent goals.
In general, the better a side is at attacking, the better they also are at defending and this fairly strong relationship between the two metrics is largely due to the overall quality or lack of it throughout the playing staff of each side.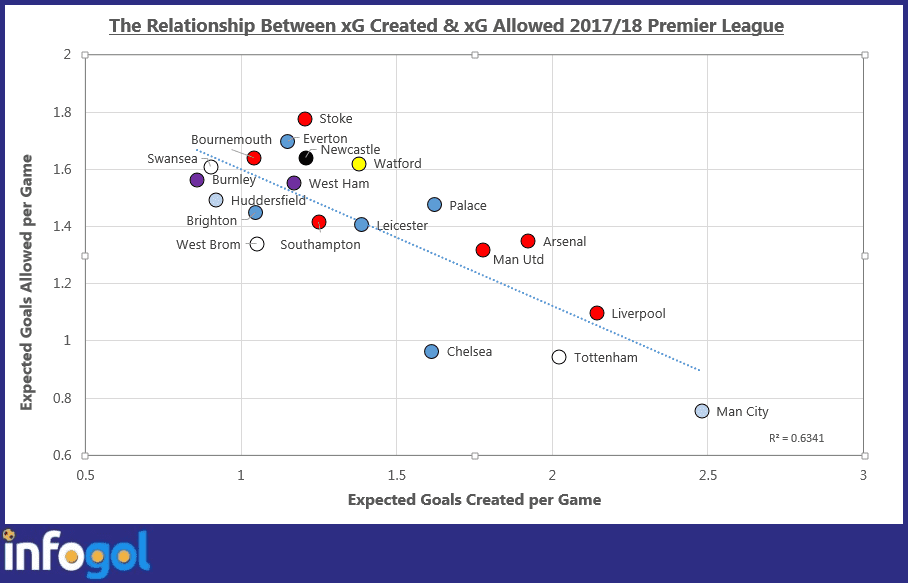 Financial backing, along with the ability to attract the best players isn't restricted to simply the glamour attacking positions on the field in top teams. Defensively, sides that can attract the best creative players also have the pick of those whose job it is to prevent goals.
For example, the current top five teams have keepers whose average worth is estimated to be £30 million, compared to just £7 million for each of the keepers at the current bottom five clubs and Liverpool have recently spent £75 million on a centre half in Virgil van Dijk.
So it shouldn't be a surprise that the best teams have quality all over the pitch and this in turn is reflected in their core, goal related metrics at both ends of the pitch.
Additionally, top sides have come to recognise the benefit that comes from involving the entire team in the defensive side of the game.
The tactic of pressing opponents into making errors, often close to that team's own goal has become a recognised, all round team tactic for many successful sides.
Barcelona, for example under Guardiola, were given a limited timeframe in which to regain lost possession in the opponent's half, before they adopted a more usual, passive defensive shape.
The concept of pressing is far from new.
Most notably, the Dutch World Cup team from 1974 regularly hunted the ball down in packs of six or seven players, relying on forcing a mistake from their opponents before they could break the press by playing a long outlet pass and more recently, Jurgen Klopp successfully utilised a high press to reach the Champions League final with Borussia Dortmund and climb the Premier League with his current club, Liverpool.
Not all pressing actions are recorded in the data.
Defensive type actions, such as tackles, interceptions and challenges are part of the usual dataset provided by the likes of Opta, but denying an opponent space is often only picked up in more detailed tracking data. Nevertheless, analysis of the frequency of defensive actions, where on the field they occur and ideally adjusted for the actual time the ball is in play, can give a good proxy for pressing.
A match nominally lasts for 90 minutes plus added time, but the ball is rarely in play for more than 60 minutes and so a side facing a high possession opponent may possess the ball in the field of play often for fewer than twenty minutes.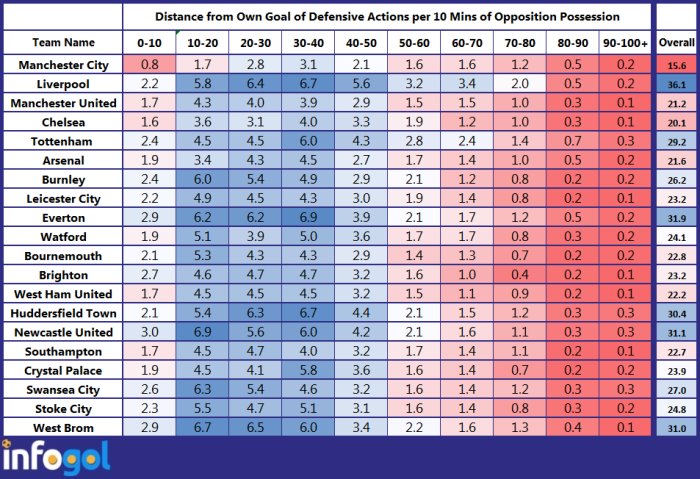 The table above illustrates both the frequency at which a team attempts a variety of defensive actions and also where on the field they occur during a typical ten minutes of actual possession by their opponents from the 2017/18 season to date.
Blue shaded areas indicate increased defensive type activity and both Liverpool and Tottenham, two sides known for their desire to press opponents high up the field, appear on the plot as the two most prominent sides at pressurizing far from the usual defensive areas of the pitch.
We can further quantify the benefit to such high pressing teams of deploying this tactic by seeing how and where such teams are actually reaping a substantial reward by dispossessing their opponents.
As with the distribution of defensive type actions, Liverpool and Tottenham are among the top teams when dispossessing their opponents in dangerous areas. Partly as a result of their pressing tactics, Tottenham are gaining possession of the ball 50 yards or closer to the centre of their opponent's goal an average of five times per 30 minutes of opponent possession.
For Liverpool the figure is nearly four times per 30 minutes.
In contrast, Burnley and Brighton, two sides with much less commitment to a high press are only gaining possession of the ball less than twice every 30 minutes of opponent possession.
In a material way, both Tottenham and Liverpool are rewarded on both sides of the ball.
From a defensive viewpoint, teams are dispossessed or at least disrupted often before an attacking move has developed, which stifles their ability to attack and includes all players, including the attackers in a side's defensive process.
In addition the high pressing teams more frequently regain possession in dangerous areas of the pitch and expected goals enables us to quantify these marginal gains.
Just as goal scoring opportunities can be modelled for their likelihood of being converted, possession can be given a "non -shot" expected goals value based on the typical outcome of every possession that developed from that area of the field.
A side will have a relatively small likelihood of converting possession from their own half into a goal. But if they are dispossessed by their opponent, the advantage and an associated non-shot expected goals figure will flip towards the side now with ownership of the ball in a threatening field position.
Top sides are good at both ends of the field because of the quality of their recruitment in all areas of play. But if they can further use tactical approaches that are easier to implement as a result of their possession based skillsets, they can enhance their advantage over other sides even more.
And increasingly, expected goals modelling is helping to quantify the team wide contribution being made by all eleven players to a side's ultimate success and the value of tactical decisions, such as using a high tempo pressing style of play.
Recent blog entries